Case Study: DS Automobiles
The Client:
A premium automotive brand, DS offers a unique driving experience - combining charismatic design, refined materials and luxurious comfort.
Target Market/Industry:
Anyone who purchases the DS3 Connected Chic between 1st September – 31st December 2017.
The Brief:
Our London based Sales Director Alexis Stone was approached by DS Automobiles' PR Agency to develop the idea of fitting a bPay contactless payment chip into the car key of their DS3 Connected Chic. This would enable the purchaser of the new model to use their car key to make purchases using contactless technology and the key alone.
A first within the automotive industry!
The Challenge:
The project came to fruition in August 2017 and the products were required for the deadline of the 1st September 2017. This was in line with a key shopping period within the automotive industry and the new release of number plates, so the timescales were extremely tight and non-negotiable.
The project required rigorous testing to see whether it was feasible to add the technology into the car key whilst still allowing the full functionality of the bPay contactless payment chip. Alongside the functionality and testing, we ensured the marrying of the DS Automobiles style guide along with guidance from bPay. The project had a very detailed approval process which needed to be very tightly managed to ensure that the project was fulfilled on schedule.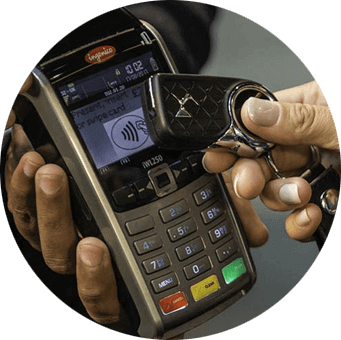 The Solution:
The project was fulfilled within 3 weeks.
The car dealers pre-fit the bPay contactless payment chips into each key of the new models. A stylish gift box is placed inside the new car, featuring the key with bPay contactless payment chip, a leather wallet, a keyring and an information card with instructions on activating the contactless payment key at the purchaser's convenience.
We also produced an instruction manual for the DS Automobiles dealers on how to insert the chips and a bPay training manual for dealers so that they could speak confidently about the product to their clients.
The Results:
As well as the project being delivered on time, it was also a first for us, a first for DS Automobiles and a first for Barclays.
Mark Blundell, UK Marketing Director for DS Automobiles adds "The brand signature for DS Automobiles is 'Spirit of Avant-Garde'. With this in mind, we were very keen to take the lead with this technology in the automotive space as we saw it as the perfect accompaniment to our new DS3 Connected Chic model. By adding the contactless payment to the key we further strengthened the connectivity message whilst at the same time adding a unique, industry first feature. Fluid were instrumental in achieving our launch timings, and were a pleasure to work with along with our partners at bPay. Overall, we've been delighted with the campaign, with very positive feedback from our customers, our dealer network and automotive press alike."