Product(s) Used:
PAL (Power a Life) Dock Wireless Charger, supplied in a custom box.
Target Market / Industry:
Based in the UK, Wesleyan has been helping people secure their financial futures for over 180 years. They provide advice and products to select professional groups, such as doctors, teachers, dentists and lawyers. On this occasion, they were looking to reach out to CEO's (teachers) of selected schools with the power of branded merchandise.
The Brief:
Wesleyan were looking for an item that was different, something that could be shared and used at schools. They wanted to make a meaningful impact and provide something that would be well received, something that made them stand out and be remembered. Their main product focuses were sustainability, wellbeing and something that gave back.
The Challenge:
Fluid needed to find a product to fit the brief, it needed to be engaging, something that had a story behind it. Wesleyan had already been chatting to another distributor about their brief, but they weren't fully satisfied with their suggestions. Fluid had to be creative and quick thinking with their ideas / suggestions.
The Solution:
The team got to work and came up with the perfect solution, the Power a Life range! Wesleyan loved the story behind the products and the link they offer to education. The PAL products are all about giving back so it was the perfect match.
You can find out more about the PAL story here.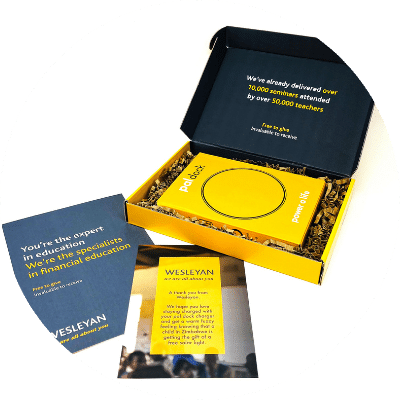 The Results:
Wesleyan settled on the PAL Dock Wireless Charger, which was well received by their recipients. Knowing that a child in Zimbabwe was receiving a free solar light in exchange for their chargers definitely put a smile on a few faces. Here's what they had to say about their Fluid experience…
"I was going to get in touch with you actually to say thanks for all yours and Leila's help with this campaign. From start to finish, I've been really impressed with the communication from yourselves and answering my many many questions so quickly, making the process as easy as possible. You've both been so helpful!
Internally, the campaign has been a resounding success and we've received really positive feedback. Everybody loved the charitable element and thought the power dock was a really great incentive.
We also had an email from a recipient to say they loved the gift and thought it would be really useful for all to use in the staff room."
If you're looking for merchandise that gives something back and want to learn more about the Power a Life range, take a look at the products for yourself here.