Case Study: Virgin Galactic
The Client:
Virgin Galactic is a company within the massive Virgin Group that is concentrating their efforts on space flight! They're developing commercial spacecraft that aim to provide actual trips into space for tourists and launches for space science missions. This is proper Final Frontier stuff - so of course we had to get involved...
Target Market/Industry:
Our target for this campaign was the potential clients of the Virgin Galactic Space Flight programme - a collection of very high profile business leaders, press and media in attendance of the world's first commercial flight into space!
The Brief:
We were asked to produce a gift merchandise pack to be handed out at the launch of the Virgin Galactic Space Flight programme. All attendees would have very high expectations, and the launch itself would be discussed and replayed the world over as a landmark in this field.
The Challenge:
As well as being on budget and on time for the event, the challenge here was in getting the products just right - for such a high profile event, they needed to be useful and in keeping with the space theme of the occasion. Our team suggested and sampled a wide variety of products before settling on the items selected for the gift pack.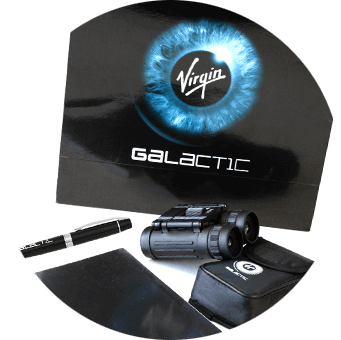 The Solution:
After extensive research and brainstorming, we settled on a selection of high quality items to go into the bespoke gift packs. We produced a pair of binoculars so the attendees at the launch could watch the space craft ascend into space, and a high quality notebook and pen so the world's press could take notes. Together with Virgin Galactic, we created an eye catching and professional design for all the items taking into consideration the brands' corporate colours and the theme of space travel.
All products represented the occasion with subtle hints to the brand and the amazing journey the occupants of the space craft were about to partake...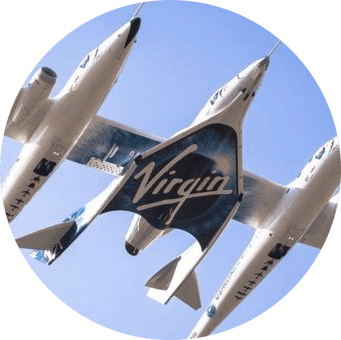 The Results:
The merchandise packs were a complete success and Virgin were really happy with the results and the reaction of the world's press and the prospective clients. In addition to this, the packs were part of the televised launch and photo shoot which has been distributed across the globe to promote the Virgin Space Programme.