Case Study: Strickland Tracks
The Client:
Strickland Tracks manufactures and distributes undercarriage crawler track systems for agricultural, recycling, and construction vehicles.The company serves customers in the United Kingdom and internationally. It was formed in 1945 and has locations in the United States, China, India, and internationally.
The Brief:
Strickland Tracks were hosting a number of events and visiting industry shows. They wanted a giveaway with a difference so Strickland Tracks would be front of mind with customers and potential new business.
The Challenge:
They wanted something different from a standard USB stick that would hold sales information and also represent their brand.
The Solution:
Working with drawings supplied by Strickland, Account Director Vicki designed a bespoke USB stick based on a design from their undercarriage track systems. The detail in the design was very intricate with fine detail, the design had to be amended a few times to get the perfect result.
With our design and sourcing expertise we were able to work closely with the factory in China to get the exact track design and meet Strickland's deadline. Strickland trusted our expertise and approved the final product via a photo from the factory in China as there wasn't time to complete a pre-production sample for them.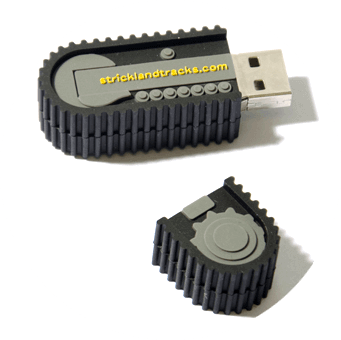 The Results:
The USB's arrived in time for the events and Strickland were thrilled with how their design had been brought to life! Dan from Strickland Tracks left us the following review on our Trustpilot page.
"We are a small company with limited experience in the merchandise sector before contacting Fluid. Immediately we felt valued as a customer and were assigned an account manager (Vicki) who dealt with our enquiry throughout.
From concept, design and final sign off Vicki was in constant contact supporting us with constructive suggestions about how to get the product we wanted.
Vicki and her team not only understood the bespoke USB stick we wanted to create but our company as a whole. We were not just treated as a job but a valued customer. I would recommend Fluid to anyone looking to get their name out there, large or small Fluid will not let you down".