Case Study: Pat the Baker
The Client:
Pat the Baker is one of Ireland's most recognisable brand names, supplying and producing bread products to Irish homes since 1953.
Target Market/Industry:
The food & retail industry, for purposes of staff engagement.
The Brief:
As part of Pat the Bakers' drive to be more sustainable they required an item to support this effort that could be given to staff.
The Challenge:
The brief was challenging as the item needed to portray the Pat the Bakers' sustainability message. They also have internationally recognised brand colours of red, yellow and blue so any products had to incorporate those colours without compromising on quality. Or the product selected needed to be available in red, yellow or blue which presented us with a unique challenge.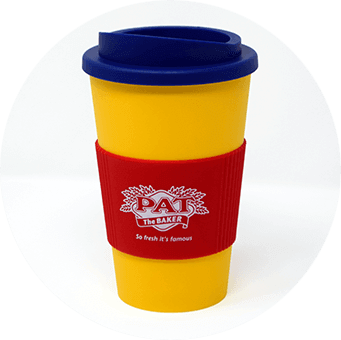 The Solution:
Our Dublin based Account Manager Shane took up this unique request. To meet Pat the Bakers' need for a sustainable product he presented a number of drinkware options. They selected a thermal mug, it would be given to staff to use on breaks and cut down on the use of single use coffee cups by the business. Selecting the thermal mug also had the added bonus of being available in yellow as a stock colour. Pat the Bakers' mug is available in a wide range of colours. Shane was able to use a stock blue lid and red wrap to match the brand colours without the need of producing a costly bespoke item.
The Results:
The thermal mugs have been well received by staff at Pat the Baker and it's cut down on the company's use of single use coffee cups.
Pat Kelly Head of Procurement at Pat the Baker said "We are over the moon with our thermal mugs and how they look in our brand colours. The mugs have been well received by staff and are in constant use throughout the business".