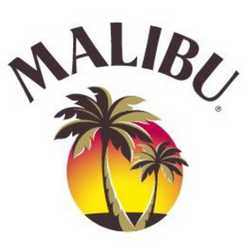 The Client:
Pernod Ricard for Malibu. Pernod Ricard is a French company that produces alcohol and owns a number of well known drinks brands including Absolut Vodka, Jacobs Creek Wine and Tia Maria. They are the world's second-largest wine and spirits seller.
Product(s) Used:
Caps, Bandanas, T-Shirts and a PVC Banner for DJ Decks.
Target Market/Industry:
Attendees to the Notting Hill Carnival and lovers of Malibu!
The Brief:
Malibu were hosting an event at the world famous Notting Hill Carnival featuring artist Shy FX. They required eco friendly items that could be given out to visitors at the Sir Lloyd's stage at the event. The items needed to give the brand as much exposure as possible.
The Challenge:
With recent news reports and documentaries highlighting the environmental effects of single use plastics, Malibu wanted to help reduce the amount of plastics going to landfill from the festival and it's giveaways. Another challenge for Fluid, were products presented to Malibu needed to have a full colour design for maximum exposure at the festival. Additionally the deadline was pretty tight! We had just nine working days to turnaround the whole project to meet an August Bank Holiday deadline.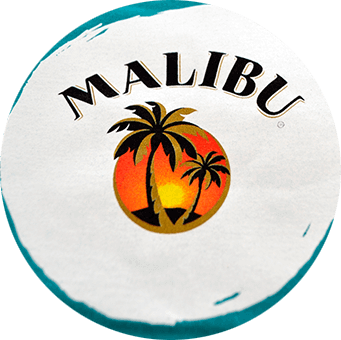 The Solution:
We suggested caps and t-shirts would be a great idea to meet Malibu's brief and also added a bandana option to complete a full apparel look that would stand out in the crowd. Malibu's corporate green was used to bring the items to life and we added a banner that decorated the stage to highlight Malibu's presence at the event.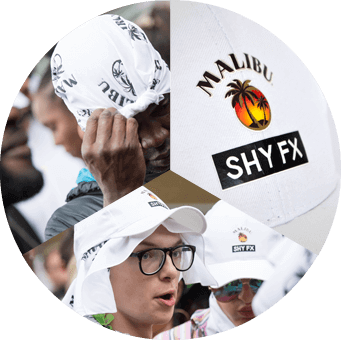 The Results:
In the end Malibu were delighted, the event was a massive success with many visitors to the carnival enjoying the atmosphere and the branded products distributed by Malibu.
Oliva Yelf, Assistant Brand Manager at Pernod Ricard, was full of praise,
"Just wanted to say a massive thank you for all your help in getting our carnival items sorted, the event was a massive success! We're very happy with the work undertaken especially after being let down by another supplier. I'll of course make sure the rest of the brand markerteers are aware of Fluid."