Case Study: Injured Jockey's Fund
The Client:
Founded in 1964 The Injured Jockeys Fund is a charity which helps jockeys whose injuries have forced them to give up riding.
Target Market/Industry:
The target market for the products were the over 40's who are interested in racing and supportive of the charity's work.
The Brief:
The Injured Jockeys Fund called upon our Sales Manager Charlotte for their annual Christmas fundraising mail order campaign. Having ordered silk ties and tea towels from Charlotte before, The Injured Jockeys Fund were looking to repeat the order with a new design.
The Challenge:
The aim of these products is to keep the charities name in front of it's supporters and of course following a horse-racing theme.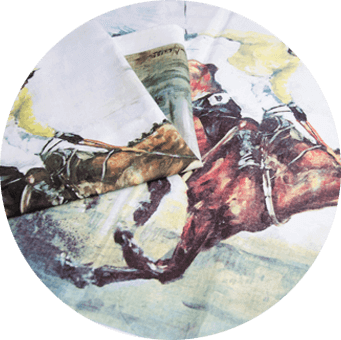 The Solution:
Our Sales Manager, Charlotte alongside our production team came up with several prototypes for The Injured Jockeys Fund, making sure the colours, designs and materials were exactly what the charity wanted. The tea towels were also completely bespoke made to the requirements of the brief. Both the ties and tea towels also included bar-codes and hanging loops so they were retail ready to sell on the client's web shop.
The Results:
The ties and tea towels were a massive hit and have been flying off the shelves ever since, "Really like the tea towel image and the cotton feels good quality!" said Jeremy from The Injured Jockeys Fund. Jeremy added "I was delighted with the results and recently saw the tie being worn by a supporter who was also very pleased. Charlotte consistently delivers friendly and knowledgeable service and carries out extensive research to provide suitable solutions to enquiries and requirements."