The Client:
With a rich history of over 130 years, Glenfiddich is the world's best selling single malt whiskey brand. 'Glenfiddich' means 'Valley of the Deer' in Scottish Gaelic, which is why the brand carries the iconic stag logo.
Target Market/Industry:
The campaign was intended to attract not only Glenfiddich's loyal and established followers, but also a new audience that would appreciate a functional, tech based product.
The Brief:
To produce on-pack merchandise for the Glenfiddich whiskey brand, to act as a point of difference when the product appeared on retail shelves, and to attract a new audience.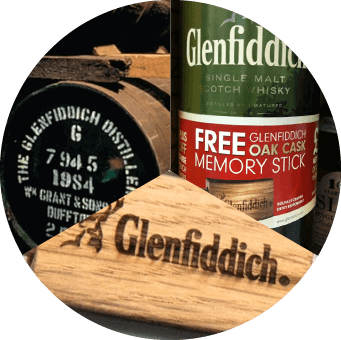 The Solution:
Following in-depth discussions with the folks at Glenfiddich, we took sample staves of the oak barrels, used to distil the whiskey, with a view to producing bespoke USB Memory Sticks. Then came a lengthy pre-production process, producing and testing a range of designs and finishes.
We agreed on an unvarnished, two piece memory stick, allowing the aroma from the whiskey-soaked oak to be retained, and engraved with the Glenfiddich brand details. We then arranged production and compliance and logistics of 46,000 USB memory sticks containing a movie file demonstrating the history and tradition of the Glenfiddich brand. These were then attached to the bottles for sale in-store.
The Results:
The client was delighted with the results and the response from loyal, traditional Glenfiddich enthusiasts. However the real impact was felt by the positive reactions and sales from a new, younger audience, who were targeted by the modern affiliation with a tech product, whilst still relating back to the Glenfiddich heritage.