Case Study: Gin Festivals UK
The Client:
Gin Festivals UK bring you the very finest gins, the proudest Ginsmiths and mixologists, and the coolest entertainment in the funkiest venues across the UK.
Target Market/Industry:
The target market was gin lovers of all ages with their strapline being "For the love of gin". It was important that the products were useful, fun and crucially able to reflect the brand clearly and effectively.
The Brief:
Gin Festivals UK got in touch with their dedicated Senior Account Manager Mark Grace. He was set the task of sourcing items for a goodie bag for Gin Festivals events, as well as clothing for their staff.
The Challenge:
A key factor in the product selection and in the branding was to accurately reflect the craft element and expertise that the brand represents.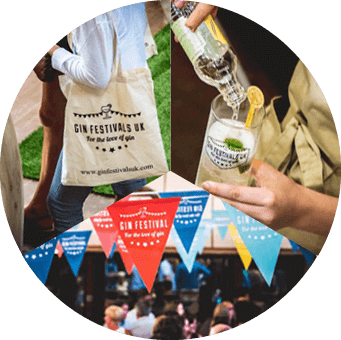 The Solution:
Mark suggested one of our best sellers, the cotton shopper as the goodie bag. The colour of the bag was natural canvas– in line with the brands craft element, printed in black ink with The Gin Festivals UK logo and website as a call to action for attendees and future attendees of the event. Similarly, the pencils and apron were also a natural colour material printed with a black logo to ensure the brand was consistently represented throughout.
A range of products were also created to go in the bag such as pencils and gin tokens for attendees. Alongside this we produced branded aprons for all of the staff – all of the products were picked to illustrate the rustic brand colours of Gin Festivals UK and most importantly were consistent across the board.
The Results:
They were delighted with the results, Gin Festivals UK firstly used the products at their most recent event in St Ives and then went on to take them to their up and coming events in Brighton, Bath, Cambridge, Cheltenham, Exeter and London.
Clint, CEO of Gin Festivals UK got in touch to say, "The service I received at Fluid Branding was second to none! My account manager, Mark understood the Gin Festivals UK brand very well. He was able to translate the brand on to a range of product mock ups and ideas for my event. After he selected the products that I wanted to order I left all the work to him! – he had them printed and delivered in time for my event and I've had nothing but positive feedback from everyone who received a goodie bag at the event. I will be ordering all my merchandise through Fluid Branding from now on – fantastic!"