Case Study: Genetic Disorders UK
The Client:
Jeans for Genes Day is the annual fundraising campaign for Genetic Disorders UK, the national charity that supports children affected by a genetic disorder.
Target Market/Industry:
Charity / Retail - the products from this campaign are intended to raise funds and awareness through retail stores and from their online shop.
The Brief:
Every year Jeans for Genes look to produce a black 'fashion t-shirt' which has celebrity endorsement, as well as a white fundraising t-shirt which bears their logo. They also produce a logo pin badge as well as a SpongeBob SquarePants badge, as they've been donated the rights to use the SpongeBob SquarePants character to help raise funds. It was our job to produce and supply all these items, making sure everything went as smooth as can be.
The Challenge:
Sales Director Josh and his team faced many challenges! The black t-shirt design is always created through a competition, which meant production lead times could become a challenge! We also needed to offer a t-shirt style that would appeal to a broad range of people.
The SpongeBob SquarePants badge (as well as its box and backing card designs) needed to be approved by Nickelodeon as well as Jeans for Genes.
The launch date for the Jeans for Genes campaign was already set, and time was ticking, meaning we needed to work to tight deadlines.
The Solution:
We worked with the client to offer the best style of t-shirts and badges available that fit their needs. For example, we suggested that the SpongeBob SquarePants badge be produced in soft PVC - our product knowledge meant we knew that this would look really good in all of the different character designs.
Our in-house design studio produced the box and backing card designs, whilst adhering to Nickelodeon's strict brand guidelines.
We supplied the badges mounted on backing cards and pre-packed in the display boxes, so they were ready to be despatched to the retailers and supporters.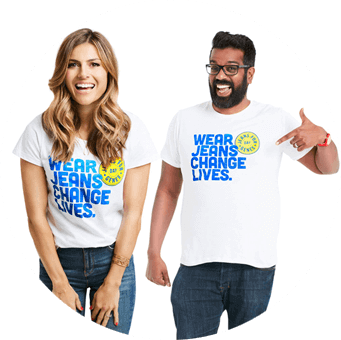 The Results:
The timelines were extremely tight, but we delivered on time. For the t-shirts, we also managed to supply a short run ahead of the full delivery to be used in their celebrity photoshoot campaign.
Lina Abdulkarim, the Marketing and Communications Manager for the Jeans for Genes Campaign said:
"Every year we strive to come up with quality merchandise that will be desirable and ultimately raise vital funds for our charity. Josh and the team at Fluid always work with us to ensure that we can deliver on time and within budget. It is a vital part of our campaign, they understand the importance of getting it right and that every penny saved means more money going towards Jeans for Genes Day."
You can learn more about Jeans for Genes Day at their website, and the products produced can be bought from their online shop.