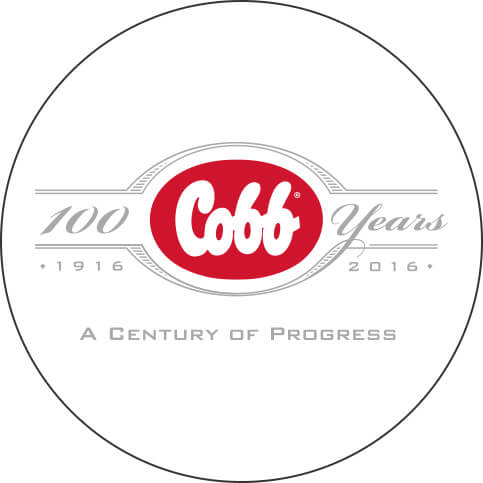 The Client:
Cobb Europe are the world's oldest poultry research and breeding company. Over the years, Cobb has grown from being a rather small scale company to being a global supplier of genetic breeding stock, and recently celebrated their 100th birthday.
Target Market/Industry:
The target for this campaign was to be attendees to the British Pig and Poultry Fair - particularly chicken producers and farm managers - and also attendees of a large trade show in Germany.
The Brief:
The brief was to produce a range of products to celebrate Cobb Europe's 100 year anniversary. Products needed to be small and easy to hand out, but at the same time communicate the Cobb brand and message to attendees clearly and quickly. It was up to our Senior Account Manager Marie to source a range of classic giveaway products for the historically well known global company, in pretty large quantities.
The Challenge:
As Cobb had very specific requirements regarding the products that they wanted to give away, Marie ensured the products were both exactly what they wanted but at the same time complimenting the brand and the Cobb ethos. Having ordered various products with Marie before, our client wanted to repeat some of these classic products as well as introduce some new giveaways for the 100 Year Celebration. Having visited us at our yearly merchandise show at the Newmarket Racecourse, the client loved the new products we had on display. They asked to see how the Cobb brand could be translated on to these new products.
The Solution:
Having created coasters before, we repeated these with the new 100 year anniversary design. To add to the collection, Marie was able to source a selection of pens for the client to choose from that were both classic looking yet affordable at a large quantity. After presenting a selection of visuals to the client they also decided on a cube torch keyring, wiro pocket note book, metal keyrings, metal USBs, aluminium coasters, pen pots and carrier and laminated bags. The collection of products complimented the logo and represented the brand and anniversary celebration.
The Results:
Happy with the results, Shani Cobbold says, "This year being Cobb Europe's 100 year anniversary we have been quite specific of the gifts we wanted to produce and Marie has been really helpful in sourcing items for us, Arriana and myself always find the trade show in October a great help in finding new ideas for the year ahead."
Arriana Catania also commented, "We've been working with Fluid Branding now for over six years and always go to them for our promotional needs. Even if we can't find what we're looking for in the catalogue, Marie can usually source it for us. They're always able to find something within our budget and offer great customer service and deliver on time. They continually launch new products meaning our customer gifts are never boring. Thank you!"