Case Study: Basketball World Cup
The Client:
The International Basketball Federation, more commonly known as FIBA is an association of national basketball organisations which governs basketball worldwide.
Target Market/Industry:
Attendees to FIBA Basketball games
The Brief:
FIBA's This is My House campaign organised in association with FIBA Media was part of the FIBA World Cup Qualifiers taking place during 2017 and 2018 with the World Cup taking place in China in 2019. FIBA had two specific requirements:
Design T-Shirts to be worn during warm ups by the players that will then be given out to the crowd.

Handle all the organisation of the project. This included design, production and shipping of the goods to each federation in time for the games.
The Challenge:
With the qualifiers taking place around the world in a continental format over two years there was a variety of challenges faced by Senior Account Manager Mark. These included:
Different artwork files - As Mark was dealing with different federations from around the world the artwork would arrive in many different formats.

Customs - There were many different customs regulations to adhere to so Mark and the team had to work out the best solution to these regulations.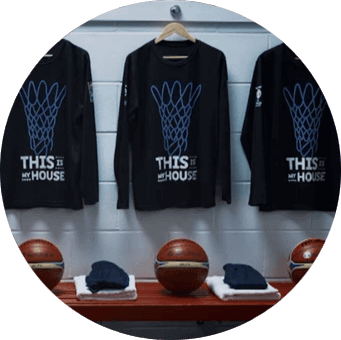 The Solution
Thanks to our expertise in shipping to multiple locations and our in-house design studio, Mark was able to overcome the challenges presented by the clients with ease. We implemented the following project solutions.
A form was sent out by FIBA media on our behalf to all federations which detailed artwork requirements for our studio. If the federation was unable to supply the required artwork, we redrew their artwork to the correct format as part of the order. The federations also sent in their quantity requirements with some requiring up to 50 t-shirts.
Delivery details were gathered by Mark and the team, this was sent over to the printers with the order artwork to speed up the process. We then arranged collection, delivery of the goods DDP (Delivered Duty Paid) and shipped to worldwide locations in time for qualifying matches.
The Results:
After successful completion of the initial t-shirt order, more orders were placed and to date 6970 t-shirts have been ordered. The campaign has been a great success for FIBA with these t-shirts being seen in games covered by ESPN, the online streaming service DAZN, the FIBA website at livebasketball.tv and FOX Sports in the APAC region.