Product(s):
A bespoke branded reflective dog lead and branded reflective bag cover.
(Fluid completely managed the production and fulfilment of these items, which were sent to AutoTrader's competition winners' individual addresses.)
Target Market/Industry:
AutoTrader is a well known classified advertising business. It specialises in new and second hand automotive sales, including cars sold by private sellers and trade dealers. As the UK and Ireland's largest digital automotive marketplace they wanted to engage their current audience but to also show other road users that they are more than just a selling site.
Their campaign was about building a safer road environment for all, with a focus on all road users, not just car drivers.
The Brief:
One of AutoTrader's core values is to "Be Community-Minded". What this means to AutoTrader is looking after each other, respecting diversity and advocating inclusion. They are committed to making a difference to the communities around them and think of others before themselves.
AutoTrader shared their vision with us to create a social media campaign around road safety. They wanted to use relevant branded promotional products as a tool to increase interaction online, whilst also providing items to their target audience that would help them with road safety. These products should echo their core value of being community minded.
The Challenge:
The brief generated two main challenges;
To create items functional enough to help with road safety and eye catching enough to raise awareness of the campaign and of AutoTrader on social media.

AutoTrader needed the campaign to be managed from conception to completion. This included the product selection but also the storing of the products until the competition concluded and we could deliver to each individual address.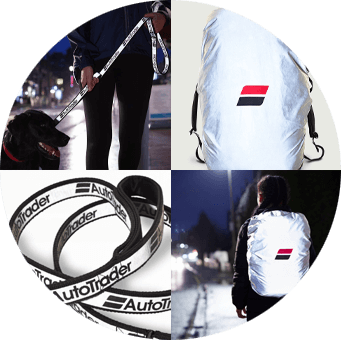 The Solution:
After the initial planning phase, a proposed list of suitable items were shortlisted by the client. The Fluid team used it's vast experience in sourcing bespoke items to create eye catching and safety conscious reflective branded dog leads and branded backpack covers.
The use of the chosen merchandise in this campaign and the added requirement of mailing it out to each individual, ensured that the recipient felt as though the brand was looking after them. AutoTrader gave a useful and thoughtful gift that echoed the road safety campaign and that in turn led to increased engagement with the brand.
Once manufactured these products were sent to our warehousing partners to be stored until the social media campaign was completed.
When AutoTrader's social media campaign ended, our production team worked with our warehousing and delivery partners to put into motion a massive logistics phase that was meticulously planned to the client's individual needs.This included sending over 17,000 items to the selected winners' individual addresses in under six weeks!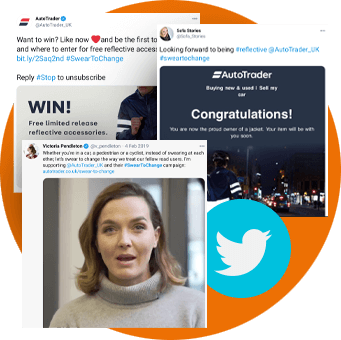 The Results:
AutoTrader created a successful and engaging Twitter campaign with the addition of useful and relevant branded merchandise from Fluid. This led to lots of engagement from the winners, who uploaded posts of their products in action onto social media channels, this was a really successful outcome for AutoTrader.
The campaign also garnered the endorsement of a famous sports person, Victoria Pendleton who supported AutoTrader's community and campaign goals and helped shape the debate of improving road safety for all.
The client was really delighted with how smoothly the campaign went from the logistical side, thanks to the work of Sales Manager James, the in-house production team and our warehousing and delivery partners.
We were able to smoothly process, execute and deliver the 17,000 items within the 6 week competition time frame with no fuss and a low return/non delivery rate.
Fluid managed the whole campaign and exceeded expectations for the client from product inspiration right through to item fulfillment.