The Client:
Sharp Life Science (EU) Ltd is a medical device company whose aQdrop technology platform allows automated workflows in the life science, industrial and medical sectors.
Target Market/Industry:
Staff engagement for a new brand launch.
The Brief:
aQdrop were launching a new brand within the company and presenting it to staff at an end of year party. They required a range of branded items to celebrate the launch, the items also needed to be used as part on-boarding process for new starters and at business events and conferences. aQdrop also had the additional request that these products be as ethical and eco friendly as possible.
The Challenge:
We had to use our vast product knowledge to find suitable products that were eco friendly and had the ability to carry full colour branding in a short delivery time. Several options were presented to management for final selection.
The Solution:
Richard, our Account Manager based in London suggested products with a large branding area, including a shopping bag, reusable coffee cups and water bottles. This gave the new brand great exposure and the products selected were also either eco friendly or ethical. The shopping bag was made from environmentally friendly materials, and the mug & water bottle were both reusable, cutting down on the amount of single use plastics. Working with our experienced fulfillment team, Richard managed to get all the products produced in time for the new brand launch.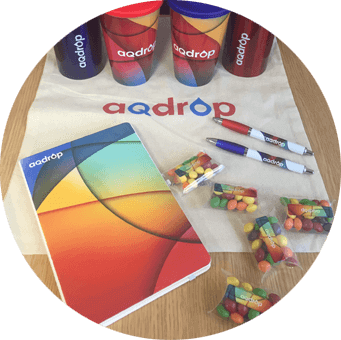 The Results:
Products delivered with time to spare! We kept aQdrop up to date with regular updates throughout the production and delivery stages, it resulted in one happy client!
"All the goodies went down very well at our Christmas party, so thank you so much to Richard and Fluid Branding for it all out for us!" - Sarah Hoey, Communications Officer, Sharp Life Science