Sustainable Packaging - What can we offer you?
Looking for a way to reduce your brand's impact on the environment? Here at Fluid, we are always looking to deliver products with maximum brand impact, but also minimal impact on our environment. Landfills across the world are populated with tons of discarded packaging, so more and more companies are starting to realise how important it is to source sustainable alternatives. By choosing our eco packaged products, you can benefit from building a better reputation amongst your customers and more importantly, help your brand do its bit!
Bioplastic
We offer a variety of products, like these bioplastic sporks and trolley coins that come nestled between rolls of crushed recycled paper and card rather than wrapped in plastic. This ensures your products don't move or get damaged during their delivery journey, and once they've arrived safely, the paper/card can then be recycled again!
Fully compostable poly bags are now offered as standard on these items.
Sticky Notes
Who doesn't love sticky notes? You'll love this one, even more, when we tell you we've removed all the plastic packaging from them! This removes over 10,000m2 of single-use plastic from this particular product alone! Plastic packaging on this item is now only available upon request.
Wooden Products
These reusable wooden window badges and wooden coasters are a fantastic alternative to plastic badges and are sustainably sourced. Even better, plastic has been eliminated from its packaging. Much better than a jumble of single-use polybags in a box, we now have a bespoke card badge carrier system that's 100% recyclable. We can even do wooden awards and clocks!
Drinkware
We're also really chuffed to tell you that we've removed single-use plastic packaging from our popular reusable Americano tumblers and our H2O Eco Sports Bottles! These now come supplied in compostable bags which will completely compost within 12 months in home compost bins, food waste bins, and garden waste bins! So not only do these products replace their single-use alternatives, but they are now also packaged more responsibly.
Treedom
Now let's share something REALLY special with you, our friends BIC Graphic Europe have joined forces with Treedom, in a one of a kind sustainable movement. But what is Treedom you ask? Let us fill you in!
Treedom is the only online platform in the world where you can have someone plant a tree for you and then follow it's journey online. The foundation was formed back in 2010 and more than 600,000 trees have been planted by local farmers in Africa, South America, and Italy. This brings social, environmental and financial benefits to the farmers and their communities. In 2014 Treedom became a part of the B Corp family (just like us!), recognising their mission for environmental goodness and social engagement.
So how do you get involved? When placing your next Bic pen order, just ask your account manager for one of the two Treedom packaging options - either the ECO Sleeve or the Window Box - and you'll be contributing towards creating a forest in Kenya, awesome right!?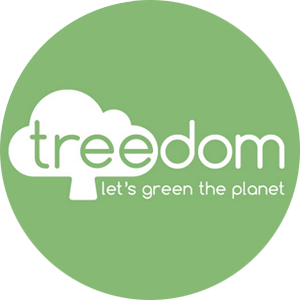 So there you have it, folks.
We're certainly not perfect, but we will continually keep working with our supplier partners to extend the range of recycled card and paper-based packaging options that we can offer you, including plastic-free packing materials and even plastic-free packing tape which is 100% recyclable, biodegradable and compostable.
For further information about any of our sustainable packaging options please just get in touch.