To say this winter has been bleak is an understatement. This January was England's wettest winter in almost 250 years, and three times the average level. Our storms have been making countless appearances in the news, and there's still some time before we can look forward to that calmer spring breeze.
One of the great things about promotional products is their versatility when it comes to targeting - you can cater your products to specific customers, industries, and, most smartly, to seasons and times of the year, like this awful winter. Alongside big changes in the weather and temperature as the seasons move from summer to winter, we all wear, consume, do and use things differently.
So think about the everyday life of your customers. What will they be doing and using this winter? Giving promotional products is a great way to demonstrate that you're a thoughtful business with attention to detail, so why not go the extra mile and provide something useful that they will benefit from right now.
And seeing it's currently in the season of wind and rain (no snow yet!), here are some of the best promotional products for this season to give you some inspiration:
Mugs
Let's be honest – we all love mugs the whole year round. But never so much as on a cold winter's morning, with a nice, hot drink to bring us back to life. What's more, a mug is something that will be in use often throughout the day, or it'll be sitting on a desk in the office. For this reason, it's not just a great promotional product for winter, but is one of the best ways to have lots of eyes read your company logo.
Another great promotional product is the Travel Mug, which is perfect for the colder weather to keep people warm during their working day. It's always easier to battle the cold commute or the cold office when there's a hot drink on hand to help.
USB Cup Warmer
In winter, if you leave your cuppa for more than a minute then you can say goodbye to all of the joy that its warmth brings. While the air is chilly, a USB Cup Warmer is one of the most thoughtful promotional products that you could give to your customers. Warm tea equals happy campers.
Umbrellas
We all know that it rains all year round here in the UK, but in winter the rain is colder, crueller, heavier and more relentless. An Umbrella will keep your customers warm, dry and very, very thankful.
An umbrella is a brand and a customer's best friend. Your customer will be thanking you for days to come that they got to that meeting without so much as a drop of rain on them, and your company logo will be out there for others to see.
Another great thing about the umbrella as a promotional product is that when a customer uses it, your business will receive a lot of brand exposure as people will likely be using them on busy streets and near busy roads. And thanks to UK weather, they'll be used on a regular basis, no doubt. Umbrellas like these are not hard to miss – therefore, neither will your company logo.
Warm Clothing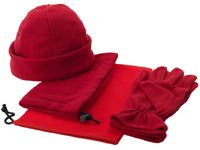 Scarves and gloves make great promotional products for this time of year. One option could be Smartphone Friendly Gloves, which allow customers to use their touchscreen devices on the go while keeping warm at the same time.
The best promotional products are the most useful ones, and nothing says useful in winter than something that can keep us warm and toasty. Another benefit is that winter accessories such as scarves and gloves are one-size-fits-all so people won't be disappointed. Also, they're likely to reappear next winter, which is a bonus for brand awareness.
Antibacterial Hand Spray
Around this time of year, colds, flus and bugs are rife, so why not show your customers that you're thinking of them with an on-the-go Antibacterial Hand Sanitiser? This product is a useful one that will be put to use every day, giving your brand lots of exposure. It's also the kind of product that is likely to be passed around, which means more exposure for no extra cost.
Ponchos
Ponchos are a great option for a promotional product for your customers. They're easy to carry round – and in turn, will be noticed by more people – and they're one of the most useful things for this wet and drizzly winter. They're very likely to come in handy, and the power of a practical product should never be underestimated.
Rain Jackets
Another route to dry, happy and grateful customers is the rain jacket. On the days when it just won't stop raining, your customers will likely still have places to go and people to see. And this is where your rain jacket will come in useful, resulting in a happy, warm customer.
Ice Scrapers
One of the inevitable additions to our morning routines in winter is the ten-minute ice scrape every morning. So why not let your brand come to the rescue on those frosty mornings? An ice scraper is a great promotional product because it's different – it's not something many companies will think of.
It's also very useful, which means it will be used and customers will feel gratitude towards your company for getting them to work on time and in one piece.
So there are some of the top promotional products to go for this season. Make your recipients happy and grateful by giving them something beneficial and they'll be guaranteed to get your brand out there by using it.