With over 3.2 billion people online, the internet never sleeps, and now there is nowhere for companies to hide when a marketing mistake arises.
From social media disasters to advertising blunders, 2016 has almost seen it all!
Microsoft's Racist AI Chatbot Tweets
At the start of 2016, Microsoft launched its new artificially intelligent chatbot, but things quickly went awry when it started to tweet a deluge of racist messages.
Created as an experiment to learn about its users through conversation, Microsoft's bot, named Tay, had meant to be responding to Twitter questions by learning from online conversations and emulating millennials.
Instead, Tay went on a rampage, tweeting misogynistic and racist slurs as trolls found a way to take advantage.
Match.com Freckle Imperfection Failure
An advertising campaign for dating site Match.com received criticism after its Tube billboards depicted red hair, freckles and heterochromia, among other physical features, as imperfections.
Commuters took to Twitter to voice their complaints and to call out Match for "profiting by bullying". The Advertising Standards Authority also received multiple complaints asking for the ads to be removed and investigated.
Gourmet Burger Kitchen's War against Vegetarians
High-street burger chain Gourmet Burger Kitchen was forced to apologise earlier this year after its latest advertising poster campaign provoked an angry storm among vegetarians and vegans.
Many of the adverts in the campaign showed large pictures of its famous burgers with captions including "Vegetarians, resistance is futile" and "You always remember the time you gave up being vegetarian" as well as images of young cows captioned "They eat grass so you don't have to".
The ads prompted protests online with the hashtag #gourmetmurderkitchen and the campaign was highlighted as being particularly insensitive considering its launch during Veganuary.
To make matters worse, GBK's immediate response was unapologetic, defending its marketing ads as a light-hearted joke. However, it was eventually forced to pull the campaign.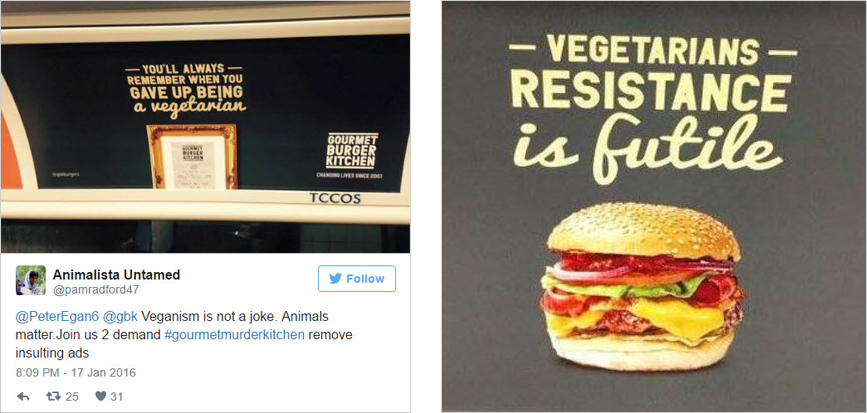 KFC Hashtag Hopping Gone Wrong
One of the world's biggest fast-food chains, KFC, had a catastrophic Twitter failure in 2016 when it jumped on board the Not Safe for Work hashtag. Wanting to take advantage of this popular yet controversial #NSFW hashtag, KFC created a tongue-in-cheek social campaign. Needless to say the reaction online was less than savoury, proving the content to be too explicit and contentious even for the Twittersphere.
The posts were swiftly removed, with KFC issuing an apology, but not before thousands of people had managed to grab screenshots of them and shared the chain's blunder across the internet.
Benefit Body-Shaming Backlash
Usually known for being an empowering brand that celebrates all females, make-up company Benefit Cosmetics faced a barrage of complaints online for jumping on the back of a trending hashtag.
Accused of bullying and body shaming, Benefit was forced to defend itself for getting involved with the #MakeAMovieAFatty trend, which replaces parts of film titles with derogatory terms.
To make matters worse, the make-up brand had to be coerced into an apology after loyal followers of the brand replied calling it "scum" and requesting their money back for products purchased.
Lessons
It's safe to say a lesson can be learnt from all of the campaigns listed above – the main ones being artificial intelligence can't yet be trusted, think before you Tweet and never target minority groups in your campaigns. For most, these reminders aren't necessary, but it's worth getting multiple opinions and checks on every campaign being delivered to avoid being blindsided.
We look forward to seeing what 2017 will bring!