While many of us feel affronted by the fact Christmas is already taking centre stage in many shops, it's important that businesses think ahead and enable people to start their Christmas shopping in advance. Well in advance.
In the world of Christmas items currently lining the shelves, there are few that evoke the same sense of excitement and anticipation as the calendar. And we don't just mean the advent variety – calendars for 2015 are also making a glamorous appearance.
As we rapidly approach that time of year where we get wrapped up, sit round the fire and share tales of the year's passed months, (with an advent choccie no doubt) this also marks the time where we'll be looking ahead to the next 12. For many, plans for 2015 are already in full swing.
For businesses, this is the perfect opportunity to present customers or prospects with an advent calendar or 2015 calendar. (Or both if you're particularly merry on good will!)
And, like our range at Fluid Branding, there's an abundance of options when it comes to choosing the perfect calendar for your recipient. Covering all shapes and sizes, colours and styles, you can find the right one to suit anyone's needs, for any environment.
In thinking about calendars that will appeal to certain tastes and characters, it turns out you can really go to tinsel town on it!
We've gathered a selection of our favourite 'off-the-wall' calendars. Oh, and a few interesting takes on the advent calendar, thrown in for good Christmas measure.
Food for thought
These food orientated calendars would suit anybody that eats…. Or, at the very least, has a spillage.
An apple a day…
Lunch date?
And when it comes to the food for choice in an advent calendar, you may be surprised to learn that chocolate isn't always number one. For those dieting at Christmas (crazy) these herbs and spices are kind on the hips while remaining festive!
Interactive
Speaking of being hands on with your calendar, there are many other ways to get interactive with this item.
Take a moment to doodle and reflect on your day.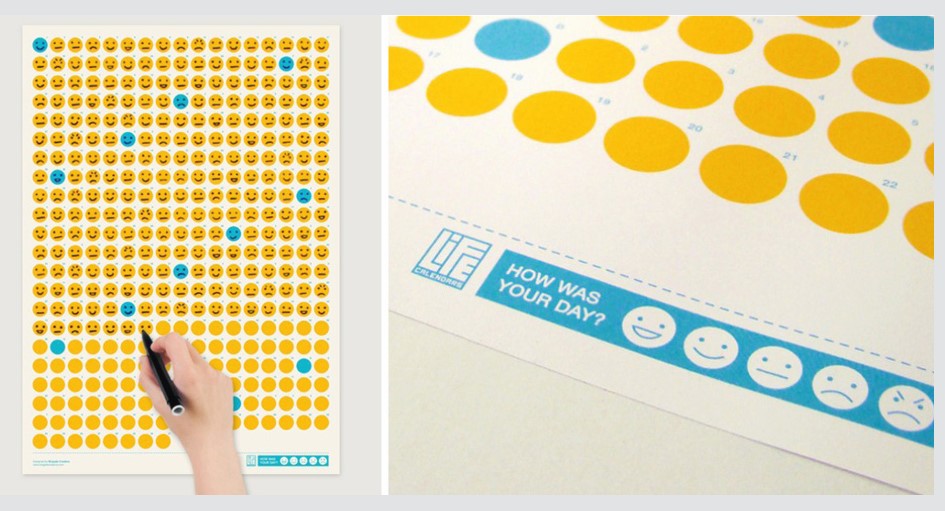 And if it's been a bad one then nothing will cheer you up quite like popping bubble wrap.
Artistic
At the other end of the spectrum are the calendars that hold little practicality, but appeal to those opting for style. These examples would make an eye-catching feature in any environment.
Oh and here's one to bridge the gap. A homely and (debatably) stylish feature, while relying on input and additions to come to life!
Dutch designer Christiaan Postma designed this wallpaper to reflect people's busy schedules, and by seeing the whole year on a wall, giving a different perspective on time.
Christmas can be chic as well!
Christmas is also the best time of year to get creative and design a handmade advent calendar:
For more homemade advent design ideas have a look here»
Classics
And then there's the good old wall-hanging, page-turning classic calendar, loved by all. Plus you can get some pretty imaginative themes for these… Here are some beauties:
Pug-life – Photographer Lara Jo Regan snapped a variety of dogs living it up on car journeys for this calendar!
Famous pet lifestyle photographer Seth Casteel also set himself a project to capture dogs retrieving balls underwater, and the collection has gone down a storm!
Animals are clearly a favourite when it comes to calendars, and combine that with art and you have a uniquely captivating subject! This calendar of painted hands is another example of innovative thinking, not to mention painstaking work, captured for all to enjoy.
As long as it's red, green with something edible nesting inside, then you've got yourself a take on the classic Christmas advent calendar.
Wacky
Swaying away from the traditional at Christmas and you can find advent calendars in the strangest of places. Such as the bathroom…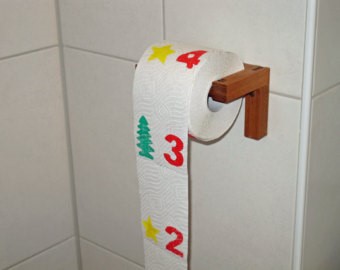 There's also something for those looking for an excuse to drink a bottle-a-day, an interesting alternative to the earlier mentioned apple-a-day!
And then there are the outright weird combinations. Animals are cute, but not so much when combined with Lady GaGa:
An interesting take on the 'pin-up' is this calendar of well-known contortionist Zlala.
And another alternative in the form of bare-cheeked archaeologists. Very niche.
In the calendar world anything goes, and it's a great way to tap into people's interests while exciting them about 'the most wonderful time of the year!' What will appeal, shock or humour your customers?