For better or for worse, with a potential 5 billion+ eyes being cast upon this year's tournament from across the planet, the World Cup is simply not an event that brands can ignore when it comes to marketing opportunities.
Before the wonders of the internet changed marketing forever, World Cup related advertising that had the potential to be successful on a global scale would only have been accessible to the very richest brands.
Today, any company with a YouTube account and a half-baked World Cup tie-in concept can, in theory, tap into this huge audience – but as we shall see, some have managed this more successfully than others.
The Good
Whilst success post World Cup is best measured in profits, 2014's most obvious yardstick for success is a brand's 'Official World Cup Ad'.
In this digital age, brands are beginning to realise that they can achieve as much exposure through their 'owned' media channels (such as a YouTube page) as they can through external sources. With this comes the competition for views, shares and virality, the metrics of choice for today's marketers.
One standout ad from an overwhelming sea of brand videos released in the build up to this year's tournament comes from a somewhat unlikely source.
By pairing perhaps the most marketable player at this year's World Cup, Brazil's insanely talented poster boy Neymar with rally/stunt driver and king of the viral 'driving very fast and skidding lots' video Ken Block, Castrol have managed to create a video that not manages to embody the ethos of their brand but also the flair and excitement of Brazilian football.
For a brand that is by its very nature completely removed from football, Castrol have produced a video that is engaging, unique and has garnered them a not unimpressive 15million+ YouTube views. Not bad for a video that could well have been filmed in a pub car park.
A special mention has to go out to one of the tournaments most unexpected and inspirational videos.
If the Chilean national team fail to be stirred toward World Cup triumph by the motivating faces of a group of middle aged men who were trapped underground for a period of time, then they should just pack up and leave.
Away from the official video ad arms race, Twitter made a small but interesting tweak to help further position itself as the social media platform of choice for up to the second news, comment and reaction for the World Cup, by integrating its new 'hashflags'.
It is easy to forget that Twitter, as much as any other brand, still has a need to drive traffic and retain users, especially during big events. The introduction of hashflags has certainly helped contribute towards this. Simple, but effective.
The Bad
Whilst international brands are busy releasing creative viral videos which will be shared and distributed to millions of people worldwide, we should not forget that some of our native brands have also had a crack at appealing to World Cup fans. As is tradition, this has been done spectacularly badly.
The trend for UK based World Cup marketing has seen a selection of brands attempt to concoct an advert to appeal directly to what we shall call 'the banter market' - a recipe that calls for a hint of ladishness, a generous splash of misogyny and the creativity of a lobotomy patient.
The less said about that the better.
For a bit of comic relief to distract us from the disappointing everyday sexism (more on this from The Guardian) that is apparently a completely acceptable part of a marketing campaign in this country, let us take a minute to pay a silent tribute to the Asda merchandise designer who is almost certainly unemployed after creating this rather fetching KKK themed wearable England football flag. Not cool.
If you are looking to order some branded goods for a World Cup party in the next few weeks then take a look at our branded football merchandise available which includes footballs, inflatables and of course the essential sound of this World Cup, the Caxixi.
The Ugly
When it comes to this year's World Cup there is one match-up between two old enemies that is sure to provide entertainment. No, it's not Brazil vs. Argentina - it's Nike vs. Adidas. Sadly though, for Adidas, once again Nike has proven to be the dominant force when it comes to World Cup brand marketing.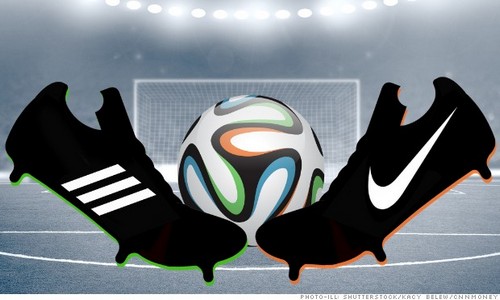 Nike is so good at advertising and event promotion that it sometimes seems as if no other company is even playing the same game. - Brendan Greeley (Bloomberg Business Week)
So where does 'the ugly' come into this? Perhaps 'the dirty' might have been a more appropriate description, as the way that Nike continue to dominate Adidas when it comes to World Cup marketing is one of THE best examples of guerrilla marketing - fighting dirty and winning.
Let's compare these two behemoths of sports retailing and their history when it comes to the World Cup. Adidas have been official sponsors of the tournament and official match ball supplier since 1970 – read our blog post on the evolution of Adidas FIFA World Cup footballs (1970 – 2014). Adidas invest over £10 million per year to position themselves as FIFA World Cup partners. Nike on the other hand, are not official sponsors. In fact, they only starting making football boots in 1994!
However when it comes to analysing what marketing success looks like in 2014, it is Nike who come out on top. For example, looking at social media following, Nike Football has 37 million Facebook followers to Adidas Football's 18.2 million, with Nike Football also commanding a Twitter following that is almost double that of Adidas.
When it comes to the World Cup ad, our aforementioned gold standard of World Cup marketing success, Nike again comes out on top with another of their always memorable videos. All the while never mentioning, indeed never needing to mention, the World Cup itself.
The final score. Nike - 46 million views. Adidas (and their hugely forgettable 'The Dream') - 35 million views. A narrow victory by these numbers, but one that is certainly representative of Nike's competitive edge over Adidas in modern World Cup advertising, a great example of how well thought out digital advertising trumps event sponsorship in this new media age.