Virtual Fluid Family Awards 2020
It's the time of year when the team at Fluid usually meet up for their annual conference, a gathering of all their UK and European offices, to socialise, reflect and celebrate the year past and hear the director's vision and aspirations for the year ahead. Sadly, due to COVID-19 restrictions, the team was unable to meet in the usual way this year, so this year's update and awards ceremony took place live online via Zoom. 
The Fluid team all gathered in their own homes on the evening of Friday 2nd October to come together online for a virtual celebration, the team sent out a goodie box to all of their attendees ahead of the event so that they could enjoy some nibbles and cocktails as the evening progressed. The box also had contents that launched the Fluid Branding Training Academy - an online learning platform to help their employees develop as part of the Fluid family, supporting the company's vision a Certified B Corporation of Meaningful Merchandise and Exceptional People.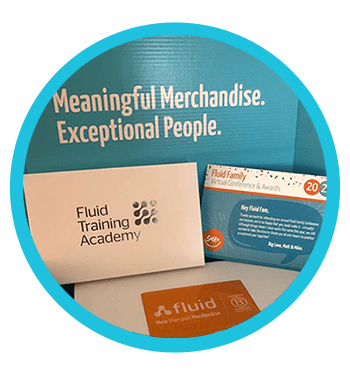 The highlight of the evening was the Fluid Family Awards 2020 - where the whole team got to vote on several different categories to celebrate individuals and exceptional achievements over a very unusual 12 month period. The winners were:
Best Newcomer
Highly Commended - Rhiannon Merryweather & Nicki White
Support Hero
Highly Commended - Joby Stanning, Lauren Coppitters & Joe Hill
Sales Hero
Winner - Charlotte Melvin
Highly Commended - Marie Ratcliffe, Kieran Benfield & Alexis Stone
Special Achievement Award
Most Profitable Account Manager
Team Awesome
Winner - Procurement/Data & Sourcing
Highly Commended - Finance & Technical Services
Brand Ambassador
Highly Commended - Jess Patton, Bronte Creary & Kieran Benfield
Employee of the year
Highly Commended -Dan Avery, Joby Stanning, Lauren Coppitters & Joe Hill
Miles Lovegrove Fluid's Managing Director adds "It was a great evening and thanks to all the team for joining in and investing their personal time to be part of our virtual awards evening. This year has been one of shock, fear, surprise, worry, both individually and as a company. But one of the best things to have happened to Fluid is the unbreakable bond between the team and offices. It has been incredible to see everyone working together to solve problems, find solutions, work hard for each other and support each other in a way that I have never seen at another company. When faced with a huge crisis like we have all seen, our entire family embraced the challenge and pushed each other to overcome, what seemed at the time, an almost impossible task to come out the other side in a stronger position. So, a massive well done to all the winners, however, all of our team are winners this year so thank you for all your efforts over the last 12 months, which I am sure will be a year we will never forget!"