Taking the stress out of Social Distancing
With lockdown slowly lifting, there are still a few questions on everyone's lips. When will everyone fully return to our workplaces? And when we do, how many of the changes we've seen in recent times will remain indefinitely?
It is likely that for most of us, the return to work will be gradual, with social distancing measures in effect for quite some time…
Here at Fluid, we've been looking at how we can help you to plan, design and operate safer, people-centred workplaces. We've got tonnes of ideas to help you do all of this, and we've listed some of the most helpful products for your business below.
Face Masks
Face masks are now recommended when social distancing isn't possible, and they're also now mandatory in all shops/supermarkets and public transport. It's a big change from what we were used to pre-COVID, but it does present an opportunity for your brands and campaigns to remain front and centre. We've got a variety to choose from - here are some options:
Full Colour Printed Face Masks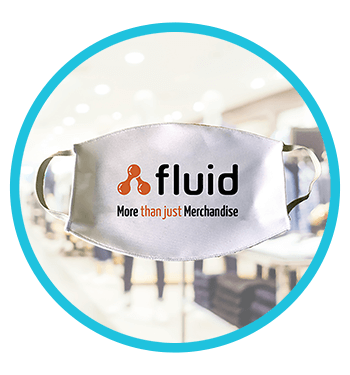 Full-colour print available on 1 side with a white backside, the elastic bands come in either white or black options. The mask doesn't protect against infective agents, but offers preventive hygiene and is reusable.
Tube Bandana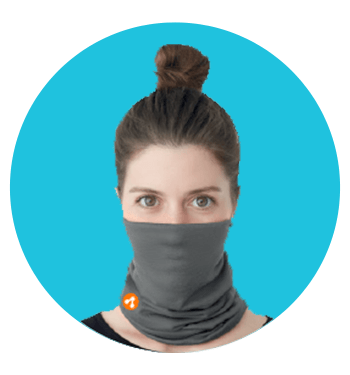 Trendy multifunctional scarf that can be used and worn in a variety of different ways. It can act as a face cover for when you go outside, but also protect you from the cold in the winter or a summer breeze. It's fully brandable and is available in recycled PET Fabric options.
Reusable 2-Ply Cotton Face Masks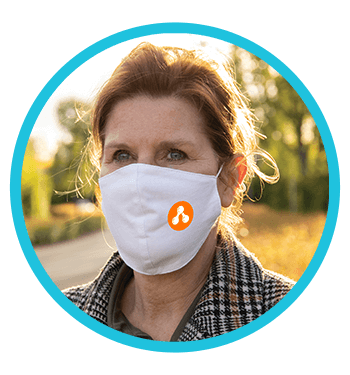 This cotton mask is made to fit every face. Wearing this mask avoids hands touching your mouth and nose. It also reduces the spread of saliva while talking, sneezing or coughing. Flat fold mask designed for durability and comfort. It also has adjustable ear loops for ease putting it on and taking it off.
As I said, there's a whole bunch of options to choose from.
Hand Sanitisers
We have a wide range of hand sanitisers to choose from varying from 50ml to 5 litres. All of our sanitisers contain 60% alcohol content and above to help limit the spread of germs and viruses. Selected sanitisers are also available for next day delivery. Here are some options below..
Clip Antibacterial Hand Sanitiser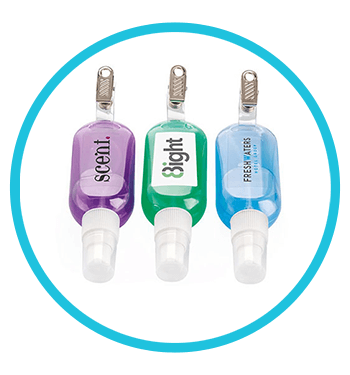 Clean hands on the go with this antibacterial waterless hand gel to give you protection against germs anywhere. Comes in a 70ml PET bottle, white cap and carabiner clip. Contains 70% Alcohol. (Also available in 70ml!)
Desktop Sanitiser Gel (50ml)
A handy desktop pocket size hand sanitiser gel for clean hands on the go, gives you protection against germs anywhere, at home, in the car or at the office. Contains 70% Alcohol.
Once again, there are loads of options to choose from. Check out our wider range of hand sanitiser options below.
Hygiene Keyrings
These handy little key rings help ease stress in everyday life by reducing physical contact. Take a peek below:
Plastic Hygiene Hook Keyring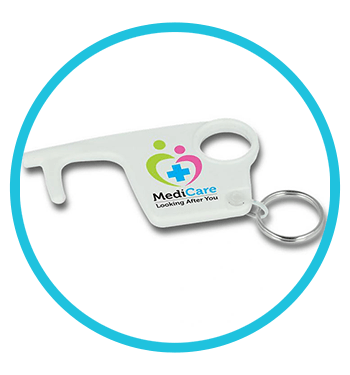 The Hygiene Hook Keyring is a unique and new product that features a flat stylus tip, finger hole, keyring loop and the handy door hook, all of which help the user not to come in contact with commonly touched areas when out and about. The keyring is made from 100% recycled plastics.
Brass Hygienic Zero Contact Keychain
This brass zero contact keychain tool offers a non - contact way to open doors & use shared surfaces like checkouts and elevators. Brass features unique antimicrobial surface properties so 99% of all bacteria will not survive on this metal. Take the keychain anywhere with you so you are assured that you don't need to touch public surfaces if not necessary.
And there's more! Take a look here for more options...
Back to Business with Antibac®
The Antibac® protection is available on a range of our bestselling promotional products, these include a selection of notebooks and Pantone matched ColourCoat bottles. The specialist surface starts to fight germs as soon as they come into contact with the product and have been clinically proven to kill 99.9% of harmful bacteria within a 24 hour period. What's more, Antibac® products can withstand repeated cleaning cycles whilst maintaining antibacterial effectiveness. The controlled release of the active ingredient provides maximum long term activity.
We hope everything here has helped give you some inspiration to keep your brand front and centre whilst maintaining a hygienic and safe workplace. If you have any questions about how we can help your business with social distancing measures, please get in touch with one of our friendly account managers today!