How to give your old pens a new lease of life
Two of Fluid's largest offices have invested in a recycling scheme to collect used pens and other office items that we'd otherwise have trouble disposing of in a responsible way. Whilst much of the industry are working towards creating a huge array of recyclable or compostable alternatives to the common biro, there are still some that are made out of materials that cannot be recycled via the usual routes.
When it comes to recycling, it's sometimes difficult to know which materials can and can't be processed. Bic, in partnership with TerraCycle, has launched a program to collect these old, used writing instruments, whatever their brand, to turn them into new, outdoor furniture!
The Process
TerraCycle provides teams with the toolkit to organize the collection of discarded pens at the very place where they are used.

A recycling provider shreds the pens, sorts out the plastics selected for the outdoor furniture and sends them to Govaplast.

Govaplast uses the recycled plastics to manufacture post-consumer plastics boards that are then sent to Plas Eco.

Plas Eco designs, manufactures, supplies and sells Ubicuity™ products.

The Ubicuity Range
Ubicuity™ range is designed and made in France, with 7 types of products including benches, picnic tables, educational planters for schools. These products are entirely made of recycled plastics and are themselves recyclable.
A better future
Here at Fluid, we are constantly looking for ways to do things better, which means we listen to ideas, start conversations and embrace small changes that can make our industry a better place. It's part of being a certified B Corporation, and is all part of our Fluid Futures pillar.
There are many, many products that still cannot be recycled via our local recycling plants, and 'pens' are not the only product that Terracycle are providing a solution for. Take a look here to see just how many other 'non-recyclables' you may be able to dispose of via one or their other collection schemes, and do your bit for the local environment!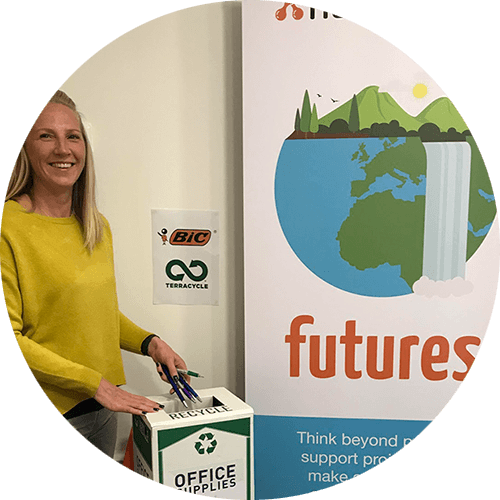 Want to get involved? Head on over to the Terracycle website by clicking the link below: