Fluid Friend Stories - Senator
In our upcoming Fluid Friend Stories, we'll be celebrating those who support and provide us with the products that make Fluid. We like to think of our suppliers as friends, we want to build mutually valuable relationships that will bring both commercial success and positive industry change.

In the final part of our Fluid Friend Stories series, we've been talking to Senator, a European manufacturer of promotional pens, mugs and notebooks.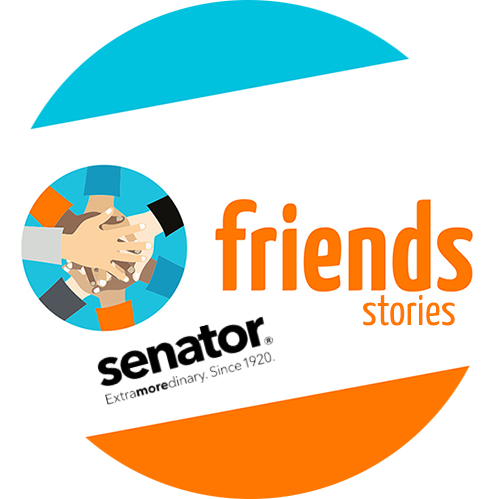 Tell us more about you and what you do?
Senator® are a European manufacturer of high-quality, long-lasting, and sustainable promotional pens, mugs & notebooks. Manufactured in our HQ in Germany and printed in the UK with the highest quality print techniques to suit any company's needs.
We have our amazing customer service team in the office based in Harlow, Essex who are on the end of the phone to support our customer's needs, we also have our team of account managers, Ian and Jessica lead by our newly appointed Head Of Sales Claire out on the road for meetings and trade shows to offer their support and product knowledge.
What products are on your hotlist at the moment?
Senator® Anti Bac range is made up of our 3 bestsellers, Super Hit, Liberty, and Challenger, but made from antibacterial surface Plastic from Germany mixed with silver compounds, an antibacterial effect confirmed by testing according to ISO21702. Perfect for any setting from education to offices, or as a perfect giveaway with the confidence of the antibacterial material.
The Challenger Matt Recycled is now even more sustainable. Produced in Germany with CO₂ neutral green electricity and made of recycled material. Available in 4 colours and can be mixed and matched from 1000 pieces. Made from >95% recycled material, the perfect promotional product to show your company cares about sustainability while effectively promoting a brand.
Our exciting new NFC Connected Challenger range has a tag inside with an integrated NFC tag that transmits additional digital information when simply held against a phone. As soon as you hold an NFC-enabled smartphone to the pre-programmed NFC tag, you will see the additional information linked to the chip − individually tailored to your wishes, always up to date, and alterable at any time.
What are you doing to make a positive impact on our industry?
Senator are always taking the next steps towards sustainability. Our manufacturing facility is run using hydro-electricity and each of our standard plastic pen options has a percentage of recycled material in them. We pride ourselves on our limited wastage of materials. As well as the recycled element, our Senator refills last up to 16 x times longer than a standard pen on the market, meaning you don't have to replace the pens as often and therefore creating less waste.
Tell us about your relationship with Fluid?
We have always had a strong relationship with Fluid Branding which we continue to build on each year. We support all project work and enquiries with knowledge and most importantly, we have a great time in meetings, laughing and thinking of ways to support each other (Zoom meetings recently).
Fluid Branding is an amazing, driven, and lovely team to work with and get to know. Thank you for working with us Fluid family.