Fluid Friend Stories - Desktop Ideas Ltd
In our upcoming Fluid Friend Stories, we'll be celebrating those who support and provide us with the products that make Fluid. We like to think of our suppliers as friends, we want to build mutually valuable relationships that will bring both commercial success and positive industry change.

In the next part of our Fluid Friend Stories series, we'll be talking to Matt Pluckrose from Desktop Ideas Ltd, who has 25 years in the industry and has been running DTI for around 22 years.
Tell us more about you and what you do?
I have been in the Promotional Merchandise industry for around 25 years and been running DTI for around 22 years. DTI is the UK's leading specialist supplier of promotional technology – over the years we have brought first to the market – flash drives, photo frames, Skype phones, Wi-Fi products, and more recently power banks for charging mobile phones. We pride ourselves in honest, friendly, and knowledgeable support for distributors. Our current focus is supporting Fluid through this tough time with innovative, creative, and compliant products with great support tools to help make selling them as easy as possible.
What are you doing to make a positive impact on our industry?
We are taking a proactive approach to support our industry with what we believe is innovative marketing/support tools to help Fluid engage with clients and show them what promo tech can do for their marketing/rewards for their staff, clients, and suppliers.
We have also tried to "give back" and helped run a campaign to support NHS staff earlier this year by coordinating approx 2k goody bags full of useful promo items that were given to NHS Nightingale hospitals.
We are the first supplier in the industry to introduce the concept of ECO tech into mainstream promo via the award-winning Xoopar MR BIO range
All packaging now revised to FSC standards across the range
Single-use plastic stopped in all packaging
Product compliance / fair trade across our supply chain is critical with all factories checked and audited regularly
Our new product development is focusing on the environment with new product ideas to feature more natural resources and materials that are better for the environment – eg cork, tea, coffee
What products are you doing to make a positive impact on our industry?
Currently, we have seen a huge demand for personal audio – such as wireless headphones, earbuds, and headsets. These represent a great lifestyle product and also are a requirement for video calls and working from home.
The other area of products which is HOT is sustainable Tech products – natural materials such as wheat straw and biodegradable plastics are in high demand. In terms of tech, this means clients can help make a difference without compromising on quality, compliance, and of course style/branding.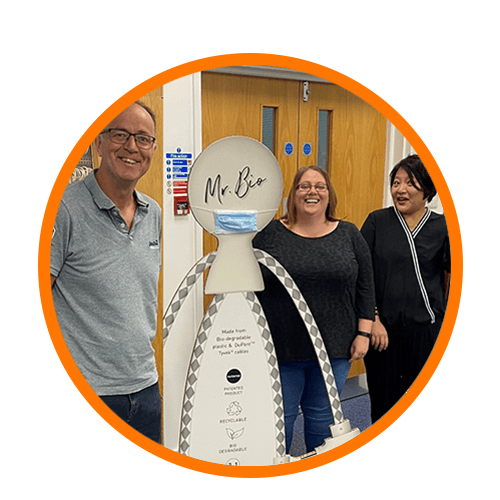 Tell us about your relationship with Fluid?
We have been working with Fluid for many years and as a key supplier, we proactively try and support in any way we can whether price, marketing, self-promo, exhibition support, accompanied visits to end-users (before COVID), and regular meetings with the various sales offices. The Fluid family is one of our favourite clients and business is conducted on a " win: win" basis.